Busy ECG testing organizations benefit greatly if their ECG data management systems include exception reporting and exception triggers. Exception Reports automatically scrub voluminous management reports of "normal" data. As a result, the time required to identify operational issues is reduced and the risk of overlooking those issues entirely is eliminated.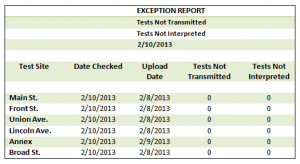 Here are two Exception Reports that will deliver actionable information on the timeliness of your ECG service:
Interpretation Exception Report
Your organization has mandated that your Interpreting Physicians must interpret an ECG test within 18 hours but you don't know how consistently your organization is meeting that standard. A weekly or daily Exception Report will provide the answers. Your management system will measure the time between the date/time of the test acquisition and test interpretation, screen out the "normal" data and generate an Exception Report that highlights those incidents that are outside the norm.
Distribution Exception Report
Your organization mandates that an ECG interpretation must be printed, faxed or electronically distributed to the Ordering Physician within 24 hours of the test being performed. What you need is hard evidence of how you perform against that standard. A standard Activity Report be able to show that lag time on a per-test basis. An Exception Report is better because the information has been reviewed for you and the report will only show those instances where the standard has not been met.
Enhance Your Exception Reports with Alerts
Exception Reports can be valuable in identifying and focusing your analysis on key operational issues. However, the most robust ECG management systems go beyond Exception Reports by triggering an immediate e-mail or text alert when an exception occurs.
For instance, your management reporting would enable corrective action in real-time if it included an alert that notifies you immediately if a specific test is not interpreted within 18 hours. Then you could take corrective action by contacting the responsible Physician or re-assigning the interpretation of that test to a Physician that is available.