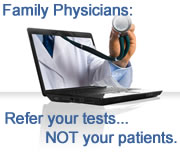 "Refer Your Tests, Not Your Patients!" That's the call-to-action that TeleMED will be using when it launches its new Diagnostics for Doctors marketing initiative next month.
Diagnostics for Doctors is a low cost, low risk service offering, aimed at Family Physicians who routinely refer their patients for non-invasive diagnostic testing. The service allows these Physicians to test patients in their office without taking on more staff or more space.
TeleMED offers Family Physicians a complete turnkey solution, including medical devices, on demand connectivity for transmitting tests to their preferred Specialists for interpretation and a multi-modality platform for managing their tests. The equipment and technology is supported by a complete suite of services that includes installation, training, 24/7 hotline and next day repair/replacement of equipment. The entire service offering is provided on a pay-as-you-go basis and the service can be terminated on demand.
"Diagnostics for Doctors" is a win-win for physicians and their patients", says Asa Lebel, TeleMED's President. "Patients receive a more responsive, more convenient service from their physicians. In turn, their physicians enjoy a more robust, more productive practice and the opportunity to add revenue for those who participate in a fee-for-service reimbursement model."
For more information about Diagnostics for Doctors, visit www.diagnosticsfordoctors.com or contact TeleMED at (800) 543-8151.